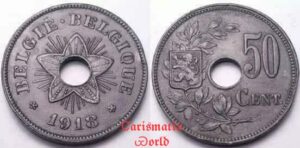 Obverse
A 5-pointed star around the center hole is surrounded with the bilingual inscription. Date below between two 5-pointed stars.
Lettering:
BELGIË·BELGIQUE
* 1918 *
Translation:
BELGIUM·BELGIUM
* 1918 *
Engraver:Alphonse Michaux
Reverse
The face value is accompanied with an olive branch, on which is superimposed the coat of arms of Belgium
Lettering:
50
CENT
Engraver:Alphonse Michaux
Alphonse Michaux (1860–1928) was a Belgian coin engraver and medallist, appointed chief engraver of the Brussels Mint (La Monnaie de Bruxelles) in 1895, and best known for engraving dies for a series of Belgian coins with a distinctive hole in the center. Michaux also engraved coins for Luxembourg, Persia, Romania, and Colombia.
Edge
Smooth