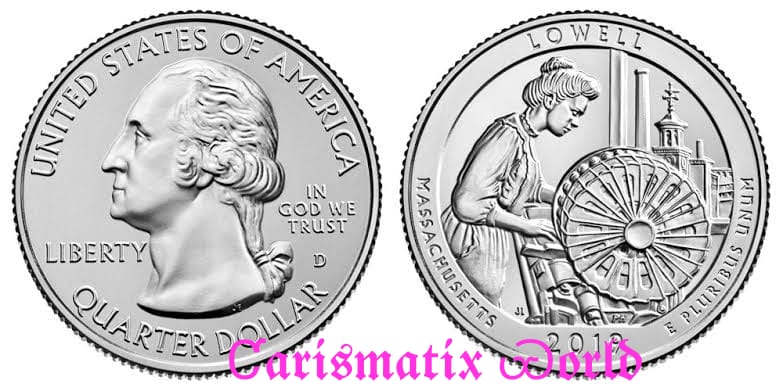 Commemorative issue
Lowell National Park, Massachusetts
Series: America the Beautiful
Obverse
The portrait in left profile of George Washington, the first President of the United States from 1789 to 1797.
Lettering:
UNITED STATES OF AMERICA
IN
GOD WE
TRUST
LIBERTY P
JF WC
QUARTER DOLLAR
Engravers:John Flanagan , William Cousins
Reverse
A mill girl working at a power loom with its prominent circular bobbin battery. A view of Lowell, including the Boott Mill clock tower, is seen through the window.
Lettering:
LOWELL
JI PH
MASSACHUSETTS 2019 E PLURIBUS UNUM
Translation:
Lowell
JI PH
Massachusetts 2019 Out of Many, One
Engravers:Phebe Hemphill , Joel Iskowitz
Edge
Reeded